Virtual Robot Games – company behind the award-nominated robotics simulator will join forces with one of the largest competitive robotics events in the world, World Robot Olympiad.
Director of Sales for Cogmation Tim Shea says, "We are thrilled to partner with WRO™ to bring the fun and excitement of virtual robotics to all their participants. Kids from all over the world can soon program and design robots, and take on WRO challenges with each other at any time all year long, a great addition to the already strong WRO programs."
Similar to the Olympics, teams from around the world spend months practicing their skills before regional finals, hoping to make it to the national final and ultimately the big event. Hundreds of teachers, mentors and volunteers of all backgrounds work with thousands of school-aged students to become the best in their category, and it takes a lot of hard work.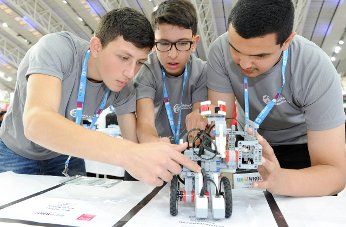 Hours upon hours are spent building, programming and controlling LEGO® robots that are required to complete a set of tasks within a certain timeframe.
Cogmation's software The Virtual Robotics Toolkit is a computer program that enables students to master their LEGO® robotics skills before they use the physical robot. The command console is identical to the physical robots' and the graphics are of superior quality, making the simulator and excellent learning tool. Just like pilots use flight simulators for cost-effective and learning purposes, now robotics students and educator can enjoy similar benefits.
Secretary General for WRO, Claus Ditlev Christensen shares Tim's sentiments; "There is a future for computer simulated robotics. It's a clever way to train people and explore new possibilities. We are really looking forward to increasing our reach and getting more people involved in the world of both virtual and real-life robots."